HRE STATEMENT AGAINST RACISM: DEC. 10, 2021
Housing & Residential Education strongly condemns racism. Within       our communities, bias-related incidents are not tolerated as they are against everything HRE values and our commitment to social justice and inclusion.

We are acutely aware that our communities continue to grapple with experiences of bias and hate and acknowledge that work must still be done to create safe and inclusive environments across our campus and broader communities. As One U, our department fully supports and recommits to the University of Utah Equity, Diversity & Inclusion's (EDI) Call to Action. Join us in reviewing this statement and engaging in this work every day.

If you see something, say something! If you witness or experience a bias incident, we encourage you to report it immediately. Campus resources are available below. Hate has no home here.
UTA Construction Impacts: October 4-13, 2021
There will be construction impacts on campus between October 4-13 that may impact public transit and your access on and off campus.
Utah Transit Authority (UTA) will be replacing the railroad curves on the TRAX line. During these dates, the TRAX curve on Mario Capecchi and South Campus Drive will be replaced. Partial road closures of westbound South Campus Drive will begin Monday, October 4. This will not affect traffic heading eastbound on South Campus Drive or north and southbound Mario Capecchi Drive.
TRAX Red Line Riders (October 9-13)
UTA will operate a bus bridge from 900 East to University Medical Center Station. The Fort Douglas Station will not be serviced during this time due to road restrictions. Riders will need to use South Campus Drive station and should expect delays of 15-30 minutes. Regular service will resume October 14. Visit rideuta.com/redline for the Red Line schedule.
Drivers (October 4-13)
Impacts:

South Campus Drive Westbound: westbound traffic will be closed from Mario Capecchi Drive to 1850 East
South Campus Drive Eastbound: all lanes open
No westbound turns onto South Campus Drive

Alternate Routes:

Mario Capecchi Drive to Foothill Drive and 500 South
Mario Capecchi Drive to Research Road
Foothill Boulevard to Sunnyside Avenue and Guardsman Way
Resident Impacts (October 4-13)
Residents of Marriott Honors Community can expect day and night noise, dust, vibration, and nighttime lighting during work activities. Barriers will be used to reduce noise.
For more information and detailed maps, visit Commuter Services.
Construction near Kahlert Village and MHC
There will be demolition and construction occurring near Kahlert Village and the Marriott Honors Community. Demolition will continue through September 23, 2021. Please be aware that there will be an increased amount of noise and dust due to the activity.
Here are some additional things to note as demolition continues:
Demolition will typically take place each weekday from 7 a.m.-4 p.m. (MT).
Special requests may extend the workday beyond 4 p.m. and to 7 p.m. (MT).
The work week may be extended into the weekend depending on project needs.
After the demolition is complete, additional construction work will continue to clean up and complete projects at the site. This work will contribute to increased noise levels, but dust levels should subside. HRE expects this project to wrap up mid-December, but this timeline may alter depending on weather conditions.
We thank you for your patience and cooperation as this essential work takes place near your residence hall.
UTA Trax Stadium Curves Construction is Complete
Construction is complete and regular service will begin today for all TRAX Red Line Stations! Visit 
www.rideuta.com/redline
 to plan your trip.
UTA Construction Impacts: August 4-22, 2021
There will be construction impacts on campus between August 4-22 that may impact public transit and your access on and off campus.
Utah Transit Authority (UTA) will be replacing light rail tracks and concrete on 500 South (University Blvd.) and South Campus Drive. This construction will impact TRAX Red Line riders and drivers during this time. Alternative options will be available, including detour driving paths and bus routes. Please see below for more information regarding specific impacts and reference the attachment for a detailed map of the impacts. More information is also shared on Commuter Services' website.
TRAX Stadium Curves:
August 4-22 (day and night)
UTA is replacing the 20-year-old TRAX curve rails and concrete on 500 South (University Blvd) and South Campus Drive. During construction, a westbound closure on 500 South will take place and a TRAX Red Line bus bridge will be available.
TRAX Red Line Rider Impacts:
August 12-22
Bus Bridge: 900 East to University of Utah Medical Center Station
UTA Buses will not be able to access the Fort Douglas Station. However, campus shuttles will still be available.

Commuting to HRE:

Hop on a Blue Route campus shuttle at the University South Campus TRAX Station. This route will transport you to the PHC Shuttle Stop in Heritage Commons.

Departing HRE:

Please hop on an Orange Route campus shuttle at the PHC Shuttle Stop. This route will take you from Heritage Commons to South Campus in minutes where you can catch a UTA bus.

Campus shuttle schedules can be found at uofubus.com.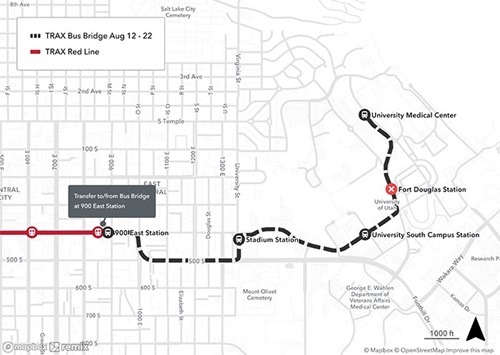 Driver Impacts:
August 4-18
500 South (Westbound)

Westbound travel closed from Guardsman Way to 1500 East
Alternative routes:

South Campus Drive to 400 South
Guardsman Way to East Sunnyside Ave. and 800 South

500 South (Eastbound)

Two lanes of traffic maintained from 1200 East to Guardsman Way
Parking Lot Closures: June 21-July 10, 2021
Several parking lots within Housing areas in Heritage Commons will undergo regular maintenance June 21-July 10, 2021. The following lots will be closed for up to three days:
Shoreline Lot (Lot 74)
Bath House Lot (Lot 76)
Officers Club Lot (Lot 77)
Gateway Heights Lot (Lot 79)
East Sage Point Lot (Lot 80)
Benchmark Lot (Lot 82)
Sage Point (Lot 87)
Alternate parking lots during closures can be found on Commuter Services website.
HRE OFfice open to walk-in guests - 6/1/2021
The HRE Office is now open to in-person visitors Monday-Friday between 8 a.m.-5 p.m. We are also open and available to answer your questions during business hours via phone and email at 801-587-2002 and info@housing.utah.edu. If you should need immediate assistance after hours, please call your area's information desk or email your Resident Director.
Campus Face Covering update - 5/20/2021
In response to a law passed by the Utah Legislature, the University of Utah has adjusted the policy on campus to comply with the law regarding face coverings. Beginning Monday, May 24, HRE residents and staff members will no longer be required to wear a face covering on campus. That said, mask wearing continues to be an effective means of preventing infection for both vaccinated and unvaccinated individuals.
While face coverings are no longer being mandated on our campus and in your communities, HRE will still abide by industry-specific CDC protocols throughout the summer semester to ensure the health and wellbeing of our community members. These include the following:
Continued disinfecting of high-traffic touch points in common areas.
On-campus COVID-19 testing for all students, staff, and faculty.
On-campus COVID-19 vaccination clinics. We strongly encourage all residents who are able to receive the COVID-19 vaccine to do so. To schedule, you can also call the U's vaccination hotline at 801-213-2874 (and press option 2) for assistance in finding and scheduling a vaccination appointment.
Quarantine and isolate students who test positive for COVID-19 or come in close contact with someone who has tested positive. If you have symptoms or have tested positive for COVID-19, please report this to HRE so that we can provide support to you and those you have been in contact with.
To learn more about how HRE is responding to COVID-19 and current coronavirus-related updates, please visit housing.utah.edu/coronavirus.
HRE Statement of support - March 17
Housing & Residential Education stands in solidarity with our Asian and Pacific Islander students, staff, and community members. The increase in racially motivated violence and hate crimes targeted towards this community is alarming and against everything HRE values. If you are in need of support today or any day, HRE is here for you.  
 Cultivating equity and inclusion for all identities is critical to ensuring safety and security for everyone. We must all take action to stop the hate in our communities on campus, in our broader communities, and across our country. Hate has no home here. 
The Office of Equity, Diversity, and Inclusion